As many in the world outside of the mass Stockholm consensus trance have predicted, mass shootings are at all time record highs at a mind numbing rate of 2 per day.  What a surprise, exactly like the days of Obaminable's crime spree hay day when gun control legislation was being attempted.  We all knew they would create false flags to push their hideous satanic agenda, no matter the number of peasants and innocents mowed down in their sick twisted war machine.
American mass shootings since 2014:

-2014: 271 [.74 per day]
-2015: 335 [.92 per day]
-2016: 382 [1.05 per day]
-2017: 348 [.95 per day]
-2018: 336 [.92 per day]
-2019: 417 [1.14 per day]
-2020: 611 [1.67 per day]
-2021: 452 [1.90 per day] https://t.co/aBTih2OjVn

— Gun Violence Archive (@GunDeaths) August 24, 2021
The Gun Violence Archive (GVA)  reported 452 mass shootings in 41 states (and D.C.) within 236 days of 2021.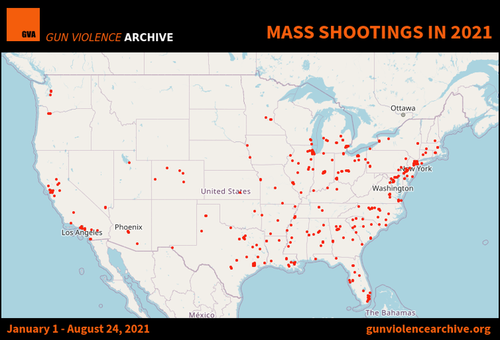 U.S. gun violence through the 7 months of 2021, as of August 2nd:

•11,900+ gun deaths
•23,900+ gun injuries
•400+ mass shootings
•600+ children shot
•2,700+ teenagers shot
•700+ defensive gun use incidents
•1,200+ unintentional shootings
~14,100+ suicides [CDC estimate]

— Gun Violence Archive (@GunDeaths) August 2, 2021
States that did not experience mass shooting include Idoha, Hawaii, Maine, Montana, North and South Dakota, Vermont, West Virginia, and Wyoming.
FYI: We had never logged a month of 60+ mass shootings prior to 2020.

It happened five times last year (May-September), and now three times in 2021. August is on pace to do the same. https://t.co/pewhvCR8e2

— Gun Violence Archive (@GunDeaths) August 25, 2021
"While there's no one-size-fits-all approach, we know there are some things that work. And the first of those that work is stemming the flow of firearms," Biden yammered.
In an attempt to fulfill the ultimate wildest wettest dream of the satanic elite puppet resident Biden is using the false flag shootings that they have 100 percent orchestrated by the self same oozing filthy slime.
The Machine Gun Next Lays out the scheme in the video below: